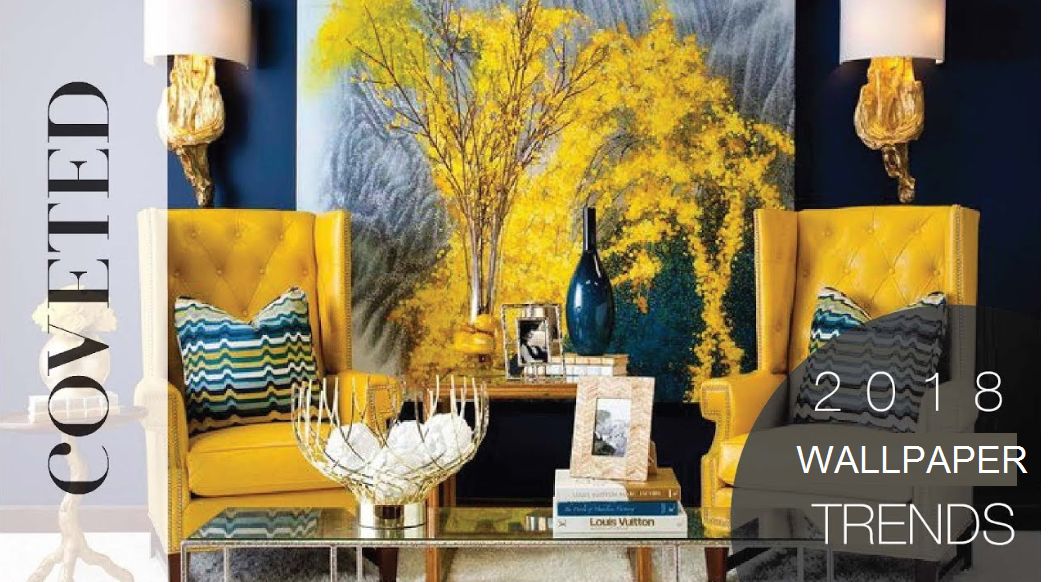 A home is always made with love and dreams. Adding wallpapers to your house is the modern way to create a dream home. You will find a large variety of wallpapers with unique patterns and extraordinary designs to add life to your conventional home walls.
From textured, dynamic prints to tropical, wallpaper is being used to reinvigorate blank wall spaces and give interiors a stylish update.
Wallpapers are not only used as a decorum for just one wall but they are crossing boundaries with their installation across all four walls. You can also implement them on the ceilings if you are not interested to keep the ceiling space blank or colorless.
Also Read – How To Choose & Buy The Right Wallpaper In Kenya?
2019's wallpaper trends Kenya have got us excited about covering our walls. we've rounded up the top styles to expect in the next few months. If you have a thing for bold patterns and rich colors, we promise, you're gonna love 'em.:

Wallpaper Trends In Kenya 2019 – Interior Wall Decor
Using the same pattern on your home walls, windows, bedrooms give a boring and dull appearance. Embrace the walls of halls with beautifully designed geometric patterns
You can easily find geometric patterns wallpapers in Kenya on raveras.com like rectangular, triangular and similar kind of shapes in multiple colors.
Raveras has taken the interior decor wallpaper trends in Kenya 2018 a step ahead with its contemporary style and inspirational patterns to be used across every kind of space in your home and thus, making your home an incredibly distinct place.

Love the nature? For those who want to create an atmosphere of woods, peace, greenery, and sweetness in their room, botanical wallpaper patterns are ideal.
Greenery and botanicals were a huge trend in 2017 and are assumed to stay in wallpaper trends of 2018 as well.
For this, you can choose pastel shades that rejuvenate life to your house.  They adapt easily to Scandinavian or minimalist style interiors. They are a unique blend of a fresh vegetative decoration.
Gone are the days where indoor plants were the only way to add a touch of botany in your home. The Botanical wallpaper trend has set fire to the interior decoration of the homes and one can even feature this botany theme on cushions, dinnerware, furniture as well as wallpaper.
Hence, if you want to experiment with lively prints, opting for botanical wallpaper from raveras is a perfect choice and will surely add color and charisma to the overall look of your conventional habitat.

? Vintage Inspired Wallpaper Patterns & Designs

A fashion that sets on fire after it gets out of the league is a Vintage Style. The vintage style has always been the king of contemporary interiors. Among the vintage patterns, Retro wallpaper patterns have recently become very trendy. They bring a vintage atmosphere to space while being attractive as well as appealing.  You can find them in different colors and create a truly unique decorative accent in the room.
Amidst infinite choices, you also have the option to customize this pattern by combining one or more retro wallpaper designs in order to create a super chic space. You can implement it in your drawing room.

Florals: vintage, large, painterly flowers are back. They are perfect for so many rooms – a spare bedroom, a girl's bedroom, the bathroom or the hallway. "Floral prints", the name itself refers to its association with the spring and summer season. Right now, they are the most favorite for many homeowners in Kenya. Having wallpaper with floral print in one of the rooms in your house is an amazing idea. It simply transforms a simple space into a unique and colorful environment. You can add it to your kitchen or a girl's room. Wood and green decor are a must if you want to create a pleasant atmosphere in your room.

The wallpaper with metallic finishing allows adding the sense of opulence to the walls in a bold way. It's a unique way to integrate a metallic touch in the house instead of adding other decorative pieces. The wallpaper with a metallic touch has something very sophisticated. To keep its pure appearance, don't combine it with bright colors. Stay in clear and neutral shades in order to create a cozy and cocooned effect to a room.
For spacious rooms like hall, cover just one wall with metallic covering for an eye-catching appeal. Experiment with a wall-to-wall design in other small rooms. Metallic wallpapers stay beautiful, shinier and more durable. Choosing the ever-popular gold and silver colors to add an extra touch of luxury.   Stick with something subtle by applying warmer colors, such as bronze, copper and rose gold. These include
? Brick & Stone Touch:
Want that bricky interior with a bright and clean look? If yes, this is the right time to incorporate the touch of brick wallpaper design into your home. Brick wallpaper is a real trend in recent years It is an economical substitute for that expensive wooden work available in different styles like Industrial, Scandi or Rustic interiors, exciting new colors, different shapes and textures. It will compliment your walls with a beautiful aesthetic aspect of the brick and brings the luxury of desired industrial touch to your home.
Go for the brick effects with Raveras and thus, add texture, warmth, and personality to your abode in a superior quality and reasonable budget. You can also decorate a small room with these coverings for all the four walls and thus create a small home office.
How's the idea to cover your walls with fabric wallpaper? Well, it was a huge hit in 2017 and as we are observing the 2018 wallpaper trends, it will continue to be in trends.  Fabric wallpapers are the easiest to implement and remove. You can apply it using liquid starch and to remove, simply spray some water and peel it off carefully. It is available in multiple patterns, colors, and textures.
In case,  you are renting a home, this is the perfect choice to opt in.  Go for a fabric that is rich in color, unique design and superior texture. This will truly create a statement for your conventional walls.

Vinyl Wallpapers are composed of a paper layer on which the vinyl film is coated. These wallpapers are water resistant thus perfectly suitable for kitchen, bathrooms as well as the kids' room. Vinyl wallpapers add a fascinating look to your bathrooms.  It comes in various finishes and styles like contemporary, traditional or even abstract. The best thing is that it is extremely easy to clean. Silk is the most beautiful one to go with.
Raveras is the best place to shop for the trendy wallpapers in Kenya if you want to purchase online. You will find a wide variety of designer wallpapers of the finest quality, attractive designers, and different colors.

Ever heard about wood chip wallpapers? These are designed using real wood chips by mixing into the paper to give it that unique touch. These wallpapers are specifically designed for bedrooms as it will make a contrast with the doors and wardrobes of the room and look elegant.
However, these type of wallpapers is too difficult to remove so choose wisely while you opt for purchasing wood chip wallpapers in Kenya.

? Textured Wallpapers & Wall Covering Design Kenya
When the walls of your home lack character, it is the right time to add texture to them by applying textured wallpapers. The textured walls are very popular in recent years. This type of wallpaper recreate the effects of old time with beautifully colored patterns in different designs like the brick, stone or wooden tiles.
Find a variety of textured wallpaper designs on raveras.com with which you'll be able to create that accent wall in any room of your house.