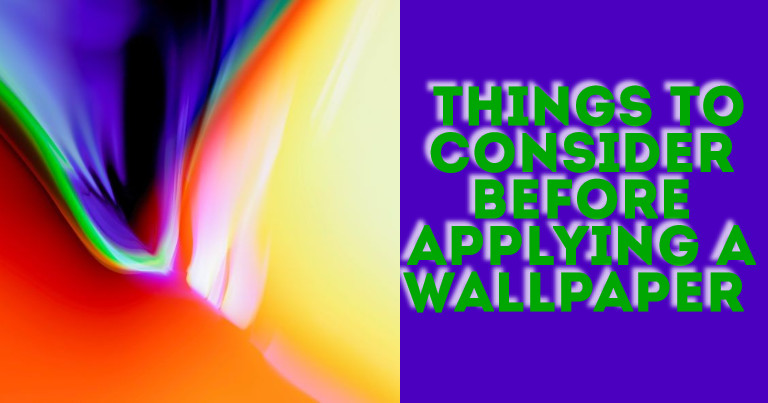 The wallpaper suffered for some time from an old-fashioned decoration image… Surprise! It is making a comeback and comes in many ranges and patterns, offering a wide margin of creativity in interior design.
Yes, but some people insist that wallpaper installation is complicated. Here we count the points you should consider before applying wallpaper!
For ease of installation… the point goes to the wallpaper!
This is indeed its biggest advantages of using wallpaper compared to other coatings. Not only is its pose intuitive enough for most amateur hobbyists, but it can also be used to hide a slightly damaged piece of wall, as long as the wall stays healthy.
Conversely, painting requires working on a perfectly smooth and cleaned wall and therefore requires a significant preparatory work, completed by the application of several sub-layers and layers for optimal final rendering.
To know –  Although this is tempting, we do not stick a wallpaper on another. Before putting a new wallpaper, it will first take off the wallpaper you want to change so much!
Five questions are offered to guide you in your wallpaper job.
Also read  – Top Wallpaper Trends In Kenya
Do you like or like?
So you decided to make a statement with wallpaper, but how do you know if you will still like the pattern you choose a few months later?
The advantage of permanent wallpaper is the variety of high-quality materials and textures, and the high-strength glue reduces the peel angles. If there is nothing you still love, or if you are unstable, go away now.
Before applying wallpaper, it is essential to prepare the substrate well. And for good reason, if you want a durable and aesthetic wall covering, it is essential to work on a clean, dry and healthy wall.
Therefore, it is better to think about preparing your wall before wallpaper, so as to ensure the quality of the final rendering. This page gives you all the tips for preparing a substrate before painting or laying a wall covering.
Also read – Wallpapers For Home – Basics For Choosing the Right Style
The importance of the preparation of the support before the installation of wallpaper
Many are the individuals to neglect the preparation of a wall before putting a wallpaper. It must be said that it is tempting to put wallpaper on an old wall covering, or not to prepare the wall.
And yet, the preparation of the support is essential before any installation of wall covering  :
It ensures a smooth wallpaper without reliefs,
It guarantees a durable pose, and avoids premature detachment or tearing of the wallpaper,
It ensures an aesthetic and professional rendering.
If you decide to change the wallpaper in your home, never neglect this step.
To know: on a wall damaged and healthy, you can possibly consider the installation of wallpaper covering that can hide some imperfections.
Also read –  How Much Does Wallpaper Cost in Kenya?
Material needed to prepare the upholstery
If you want to ensure the quality of the final result, note that the preparation of walls requires some equipment.
You will need:
Plastic tarpaulin,
Sponge,
Wallpaper stripper,
Spatula with wallpaper,
Sanding paper,
Laundry Saint-Marc,
Take off the wallpaper,
Filler,
Painter's knife,
Screwdriver,
Primary hanging,
Roller,
Brush.
Prepare a wall before putting up a wallpaper
The preparation of the support before wallpaper or painting is usually the same.
It is important to follow different steps and work methodically, so as to have a wall:
Clean,
Plane,
Dry,
And healthy.
Also read –   3D Wallpapers Kenya – Designs For Living Room & Bedroom
Peel off the old wall covering
In the first place, it is essential to remove the old wallpaper (or any other coating). To put a tapestry on an old covering will inevitably create disgracious reliefs and an imperfect result.
Before the work, remove the furniture from the room as much as possible, and put a tarpaulin on the floor so that it is easier to clean.
The tasks to remove the old wall covering will depend on the type of wall you are treating:
To take off an old tapestry, the ideal is to use a wallpaper stripper, and a spatula. Using a product takes off wallpaper may be a plus.
On a wall covered with an effect paint, a leaching followed by a light sanding will be necessary.
For paneling, arm yourself with a crowbar, a screwdriver, and a pliers to loosen the blades and remove the nails.
For interior plaster, the use of a chemical wallpaper stripper may be necessary.
Before using any product (especially a stripper or peel off wallpaper), be sure to read its instructions and follow the recommendations for use. Note that you can rent a wallpaper stripper for twenty KSh per day to remove wallpaper , from a large DIY or tapestry store.
Namely: if your tapestry is still in good condition, know that it is sometimes possible to clean a wallpaper rather than replace it. It's a simple way to save yourself some work!
Also read –   Best Wallpaper for Kids in Kenya
Clean the wall
Once the wall covering is clear, or on a painted wall, it is important to clean the support. Before washing the wall, remember to turn off the power to prevent water from entering the electrical outlets. Washing a wall is usually done with Saint-Marc laundry and a sponge slightly moistened with water. This step allows you to eliminate:
Traces of glue,
The remains of the old coating,
Paint blisters or reliefs,
The fat,
Dust.
If there are traces of the old tapestry after cleaning, let it dry, then sand lightly to clear the wall. Vacuum to remove dust.
Important: Take this step to verify that the wall is perfectly healthy. In case of fungi or mold, take the time to solve your moisture problem first. It is useless to put a new wallpaper on a wall that suffers from infiltration.
Also read –   Wallpapers For Bathroom In Kenya
Repair imperfections
The wall is almost ready! You still have to fill in its last imperfections. To do this, examine the wall for holes, cracks, or slight reliefs. Here's how to ensure a perfectly flat wall:
Apply filler to holes and cracks, using a painter's knife.
Smooth the plaster perfectly, and let it dry.
Once the plaster is dry, sand lightly to smooth the surface.
In case of reliefs on the wall, sand also.
Once the wall is ready, dust off with a cloth or a vacuum cleaner.
Do not neglect dusting, as plaster dust may interfere with wallpaper adhesion.
Also read  –   How Can House Wallpapers Impact Your Home in Kenya?
Wall Finishing
The wall is now clean, healthy and flat. It remains to realize some finishes so that the hanging of the wallpaper is perfect:
Disassemble the electrical sockets and switches with a screwdriver, having thought of turning off the power.
If necessary, apply an under layer hook, adapted to the nature of the wall, to facilitate the adhesion of the wallpaper.
Your wall is ready, whether to receive a painting or a new tapestry. Do not hesitate to consult this complete guide to wallpaper installation in Kenya with its rules of the art.
Also read  – How To Choose & Buy The Right Wallpaper In Kenya?
A video – How to prepare the walls before applying wallpaper?
Need even more details or tips to prepare your walls before laying a tapestry? In this case, here is a complete and pictorial method that helps you to better prepare everything:
All this seems too complicated? In this case, note that the rates for laying a wallpaper are not so high. Going through a craftsman can save you a lot of time and energy. If you want to know the price of preparing a wall or laying a tapestry near you, do not hesitate to visit Raveras and check best wallpapers in Kenya.